Centrifugal method cold-pressed virgin coconut oil. 
Laurent is produced from cold-pressed treatment. With this process, the essential natural goodness of its phytonutrients & anti-oxidants properties is preserved. 
Centrifugal extraction process helps to prevent contamination or deterioration of coconut oil while retaining its freshness. Thus, Laurent tastes and smells like fresh coconut.
Rich in medium-chain triglycerides (~65% MCTs), mainly lauric acid (C-12) and caprylic acid (C-8).

Contains antioxidant polyphenols (mainly ferulic acid); significantly higher than refined, bleached and deodorized (RBD) coconut oil.

Extracted using centrifugal method – pure coconut scent and flavour.
Laurent is certified by MARDI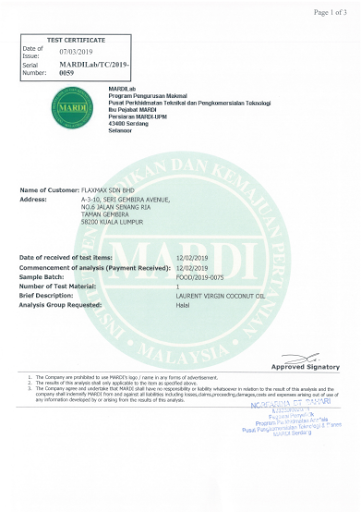 Consumption:
Heart diseases patients

Obese and overweight

Constipation

Bacterial infection, allergies
Topical application:
Atopic dermatitis, eczema, psoriasis, xerosis (dry skin).
Consumption:
Topical application:
Apply thin layer on affected area 2-3 times daily
Available in 250 ml and 500 ml